Alcohol: 13.0 %vol Drinking temperature: 14-18 °C
Volume: 0.375 l     Closure: Crown-Cork
Perfect to cheese, red meat or dessert as well as chocolate; ideal as digestif or appetizer. A perfect and maybe the best tasting cure for a flue-like infection ;-).
---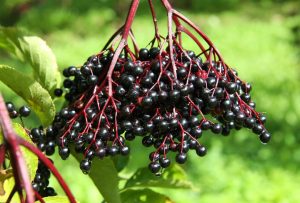 The Elderberry Ingredients / Health: Elderberry juice and the elderberries are considered as a good home remedy for colds, renal disease and bladder trouble. Main ingredients are the vitamins C and B, fruit acids, essential oils, which are also present in the flowers, flavonoids and, above all, the colouring anthocyanins. This antioxidant protects the cell membranes from free radicals  and thus slows the aging process of the plant cells as well as the cells of the human consumer. The essential oils with their aromatic complexes have a slightly perspiration and mucous effect. In the case of stomach discomfort, too, elderberry tea is successfully used in home medicine.
APPLE