Alcohol: 13.5 %vol | Residual sugar: 120 gr/l | Titratable acid: 9 gr/l
Drinking temperature: 9-12 °C
Volume: 0.375 l  |  Closure: Glass
Perfect to cheese, white meat or dessert as well as chocolate; ideal as digestif or appetizer.
---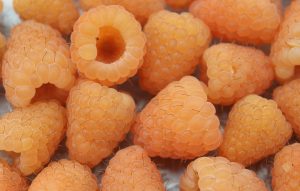 The Yellow Raspberry
There are many kinds of yellow raspberries besides the red ones. They are sweet and equal to their red relatives.
Ingredients / Health:
Much potassium, iron, magnesium, phosphorus, salicylic acid (like in aspirin), pectin, tannins, flavones (dyes).
Raspberries help to lower high blood pressure, lower fever, support liver detoxify, strengthen the walls of very small blood vessels, help in the regeneration of the intestinal mucosa and are good for treatment of anorexia, bladder weakness, nausea, weakness and anaemia. Support bone formation, important for metabolism in the muscles, for all functions in the brain and nerves. Protect cells against cancer.