Alcohol: 10.5 %vol
Drinking temperature: 10-14 °C
Volume: 0.375 l     Closure: Glass
Perfect to cheese, white and red meat or dessert as well as chocolate; ideal as digestif or appetizer.
---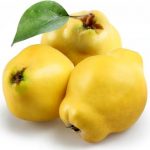 The fruit quince
Quince is an ancient fruit, found in Roman cooking and grown across Turkey and southeast Asia. It grows on small trees and is closely related to apples and pears, but it lacks their immediate edibility and appeal. The ripest, nicest quince will have a golden tone and smooth skin. But even ripe quince doesn't taste very good raw. That's why is has to be processed to be of use. Common is the use as marmelade but also for a fruit wine it is an excellent and very tastefull fruit.
Ingredients / Health:
Some of the health benefits of the quince fruit include its ability to help prevent cancer, aid in weight loss, improve digestive health, reduce cholesterol, boost immune system strength, prevent gastrointestinal diseases, increase the health of your skin, decrease blood pressure, prevent allergic reactions, and stimulate circulation in the cardiovascular system.