Alcohol: 12.5 %vol
Drinking temperature: 10-14 °C
Volume: 0.375 l     Closure: Cork
Perfect to cheese, white and red meat or dessert as well as chocolate; ideal as digestif or appetizer.
---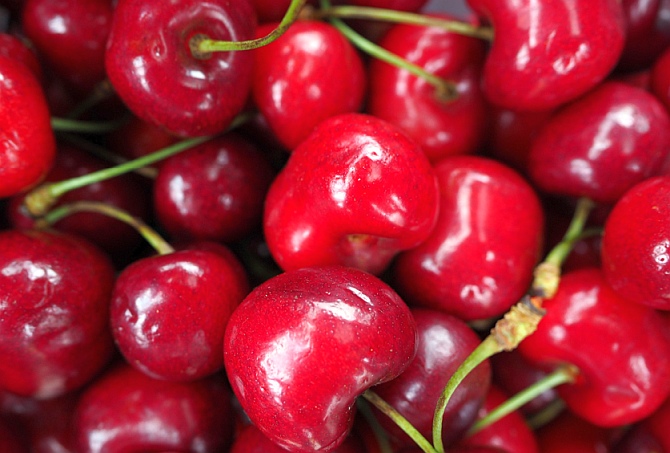 The fruit (sour) cherry
Cherries are native to Eastern Europe and Asia Minor regions. Botanically, the fruit is a "drupe" (stone fruit), belonging to the large Rosaceae family of small tree fruits in the genus, Prunus. Some of the common "drupe" family fruits are plums, peaches, apricots, etc. Although several species of cherries exist, two popular cultivars are wild or sweet cherry and sour or tart cherry. While sweet cherries belong to the species of Prunus avium, tart variety belongs to that of Prunus cerasus.
Ingredients / Health:
The cherry fruit is packed with full of health-benefiting nutrients and unique antioxidants. They are a rich source of phytonutrients, vitamins, and minerals. Both sweet, as well as tart cherries, are packed with numerous health benefiting compounds that are essential for wellness.
Research studies also suggest that antioxidant compounds in sour cherries can help the human body fight against cancers, aging and neurological diseases, and pre-diabetes condition.
They are also a small source of zinc, iron, potassium, and manganese; and a good source of copper. Potassium is a beneficial electrolyte which is an important component of cell and body fluids that regulate heart rate and blood pressure.
Especially tart cherries are exceptionally rich in health promoting flavonoid poly phenolic antioxidants such as lutein, zeaxanthin, and beta-carotene. These compounds act as protective scavengers against harmful free radicals and reactive oxygen species (ROS) that play a role in aging, cancers and various disease processes.
Anti-inflammatory property of cherries has been found effective in reducing heart-disease risk factors through scavenging action against free radicals.