Alcohol: 13.0 %vol
Drinking temperature: 9-12 °C
Volume: 0.375 l     Closure: Cork&Glass
Perfect to cheese, white and red meat or dessert as well as chocolate; ideal as digestif or appetizer.
---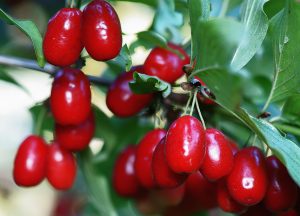 The fruit "Dirndl" / Cornel Cherry
"Dirndl" is the Austrian expression for the cornel cherry. The fruits are not genetically related to cherries. They are also a stone fruit with a big stone, but belong to completely different botanical species.
Ingredients / Health:
Glucose, malic- and citric acid, mucilage and tanning agent. Cornel cherries contain the pigments anthocyanins which play a major role for amelioration of inflammation and injuries of the mucous membrane and blood vessels, e.g. gastritis or varicose veins.
Hildegard von Bingen (1098–1179) recommended cornel cherries for gout and for the stomach.