Alcohol: 14.0 %vol
Drinking temperature: 10-14 °C
Volume: 0.375 l     Closure: Glass
Perfect to cheese, red meat or dessert as well as chocolate; ideal as digestif or appetizer.
---
Th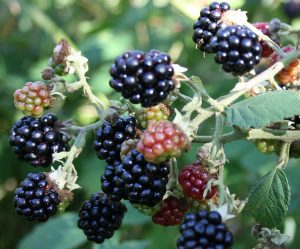 e Blackberry
Ingredients / Health:
High vitamin C content, potassium, magnesium, iron, flavones, phenolic acids. These highest levels of ellagic acid (cancer protection) of all berries.
Detoxifies the liver, lowers fever, improves digestion, diaphoretic, expectorant, blood purifier and blood forming. Presumed as cancer preventive. Beneficial for high blood pressure; strengthens bones. Good for anemia because they are blood forming (iron, copper). Flavones strengthen vascular walls: Protects against spider veins. Blackberries help indigestion, diarrhea, cystitis, fever, sore throat, tonsillitis, measles, nosebleeds, colds, chronic bronchitis, heartburn and regurgitation, also against lichens and rashes of any kind.