Alcohol: 14.0 %vol
Drinking temperature: 12-18 °C
Volume: 0.375 l     Closure: Cork
Perfect to cheese, white and red meat or dessert as well as chocolate; ideal as digestif or appetizer.
---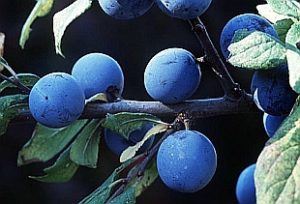 The fruit sloe (blackthorn)
Sloe is native to Europe, western Asia, and locally in northwest Africa. It is a large deciduous shrub or small tree growing to 5 metres tall, with blackish bark and dense, stiff, spiny branches.
The fruit, called a "sloe", is a drupe 10–12 millimetres in diameter, black with a purple-blue waxy bloom, ripening in autumn. Sloes are thin-fleshed, with a very strongly astringent flavour when fresh.
Ingredients / Health:
The diuretic, laxative, astringent, and anti-inflammatory qualities of sloe have given this herb recognition for its medicinal uses in the following ways: Improves Digestion, Treats Breathing Disorders, Dental caries, Helps in Detoxification of Body, Cancer Management, Treats Kidney and Bladder Problems, Relieves Fatigue and General Exhaustion, Cardiac disorders, Reduces Inflammation of Mouth and Pharynx, Works as an Excellent Beauty Remedy, Sore Throat and Bad Breath