Alcohol: 12.0 %vol
Drinking temperature: 9-12 °C
Volume: 0.375 l     Closure: Cork
Perfect to cheese, white and red meat or dessert as well as chocolate; ideal as digestif or appetizer.
---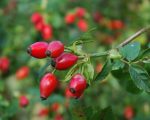 The rose hip
The rosehip is a cluster fruit that grows on certain wild rose bushes. The shrubs often grow as hedges. Rose hips have a high health value and taste sour-tart.
Ingredients / Health:
Rose hips have different healing effects. Vitamin C, which is found in large amounts in the acidic fruits, plays a significant part in this. Depending on the variety, 100 grams of rose hips have 400 to 1500 milligrams of vitamin C. Some variants even reach the peak of 5000 milligrams.
In addition to vitamin C rose hips also have numerous other ingredients, which have a positive effect on health . These include the fruit acids, essential oils, pectins, tannins, silicic acid, the antioxidants lycopene and flavonoids, the vitamins provitamin A, vitamin B1 and B2 as well as vitamin E, the minerals zinc, copper, sodium, phosphorus, iron, calcium and magnesium.
The rose hip cores are also full of healthy polyunsaturated fatty acids (linoleic acid and alpha-linolenic acid), phospholipids and amino acids.