Alcohol: 12.5 %vol
Drinking temperature: 9-12 °C
Volume: 0.375 l     Closure: Cork
Perfect to cheese, red meat or dessert as well as chocolate; ideal as digestif or appetizer.
---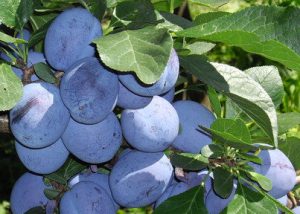 The fruit plum
The taste of plums is quite different as there are many variants. There are sweet plums and bitter ones. The pulp is often bright and the stone is in the middle. There are more than 2000 variants of plums. The typical plum in Austria, which can also be found next to streets, can be identified by its oblongness and sharp end.
Ingredients / Health:
The blue fruits consist of 10.2% carbs, 0.6% proteins, 0.2% fat and 1.6% fibers. Plums have plenty of vitamins; beta-carotine, vitamin C, vitamin E and also some vitamin of the B group which are especially beneficial for the nervous system.