Alcohol: 13.0 %vol
Drinking temperature: 9-12 °C
Volume: 0.375 l     Closure: Cork
Perfect to cheese, white meat or dessert as well as chocolate; ideal as digestif or appetizer.
---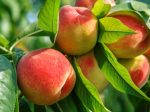 The fruit peach
The peach is a stone fruit and belongs with its relatives apricot and almond to the rose family. The plant is very warm-loving and therefore thrives in Austria only in areas with viticultural climatic conditions such as in Styria, Burgenland and Lower Austria.
Ingredients / Health:
Peaches have a relatively low calorie content because they are very watery. They provide minerals, e.g. potassium, calcium, magnesium and iron, as well as various vitamins of the B group and vitamin C. Peaches also have various secondary plant ingredients, e.g. provitamin A, vegetable dyes or the flavonoid anthocyanin.
Peaches are considered to be beneficial to health. They
strengthen the immune system
stimulat the kidneys and
dehydrate the entire organism.
Hence the heart, the circulation and the lungs are relieved.