Alcohol: 12.5 %vol
Drinking temperature: 9-12 °C
Volume: 0.375 l     Closure: Cork
Perfect to cheese, red meat or dessert as well as chocolate; ideal as digestif or appetizer.
---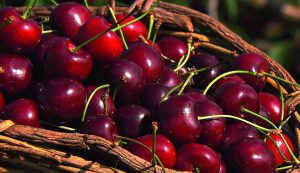 The fruit Cherry
Cherry is a stone fruit and belongs to the rose family (rosaceae). There are two main kinds of sweet cherries, the heart cherry and the bigarreau. The heart cherry – which was used for this wine – has a juicy and soft fruit consistency.
Ingredients / Health:
100 g cherries have 240 kJ and contain approx. 84 g water, 0.9 g protein, 0.4 g fat, 11 g carbs and 1 g fibers. Furthermore they contain approx. 8 mg calcium, 0.6 mg iron, 2 mg sodium, 50 RE vitamin A and 12 mg vitamin C.
The plant dye fights free radicals and protects against arteriosclerosis, cancer and cataract. In addition the secondary plant metabolites of the cherry diminish inflammation. The minerals contained in the cherries support the construction of bones and teeth.